IT SEEMS THAT SHE IS TOO SMALL FOR THEM TO SEE HER
work-in progress - Video on vimeo
1. Side specific Performance/Investigation, Videoclip
Mediteranean Sea/Coast, Urban environment, European Cities
MIGRATION - EXCHANGE - CHANGE














Places of inverstigation/performance: Mallorca, wuppertal, London, Amsterdam, Malta, Marseille, Tarifa, Valencia, Istanbul, Koeln, Rome...
2. Pallas Athene versus Odysseus
Inner monologue about war and the lost of identity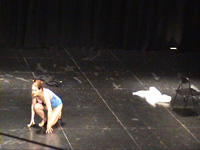 Solo Performance for stage, gallery and any appropriate space
***
September 2017 - Januar 2018 (...to be continued over the year 2018):
UMBRELLA TALKS - in cooperation with stART Konekti, Alte Feuerwache, Cologne.
Collaboration with refugees from the Near- and Middle East and fellow citizens of the neighborhood.
Schirmgespräche - Umbrella talks - pdf
***